Any Day of The Year With Dump It!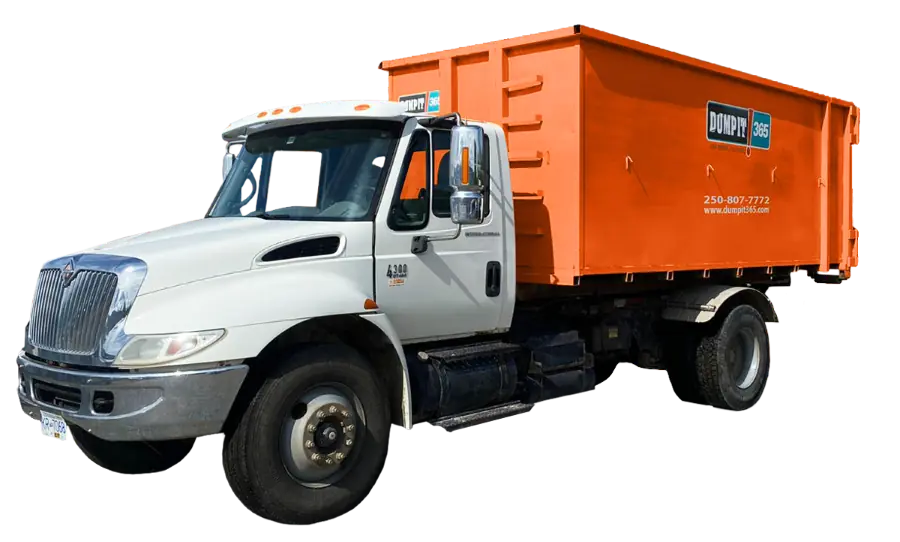 We offer convenient junk removal
& trash disposal 365 days a year!
Prompt, Professional Service Anytime You Need It

Dump It! 365 offers convenient Kelowna junk removal and trash disposal services 365 days a year! Don't live in clutter any longer than you need to, we remove it, as soon as you need it! And smiles are always FREE!

Feel Good About Improving the Community and Environment! We Recycle Up to 100%

One Man's Trash is Another Man's Treasure. Let us help you give back to the community by donating your goods to local charities helping give back to families in need – PLUS, this keeps the environment cleaner longer by keeping it out of the landfill.

Instant Savings – Bigger Really is Better!

Bigger Bins means less trips! By being able to take more in one load than most of our competitors take in 2 or 3 loads we keep YOUR MONEY where it should be – in YOUR POCKET! Our Bins Range from 12-30 Yards… But you're only charged for what we take; just like it should be!
- Point and Relax while we load it up and remove it – We'll even sweep up the area when we're done so you're living clutter-free and relaxed sooner.
- You load it up and SAVE some cash! Just need the bins? We drop them off when you need them and pick them up when you're done

Easy Scheduling – Set It and Forget It

View Our Current Openings and Book Your Bin Online Now! Don't worry about forgetting, we will send you a text/email to remind you of your appointment and always call 30 minutes ahead so you are never waiting around.